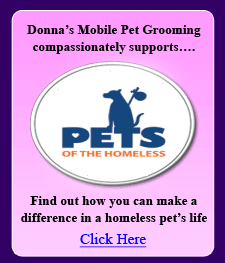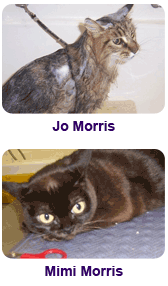 Donna has been grooming our four cats for about six months now. Her gentle, quiet manner and her understanding of their distinct characters makes her the perfect groomer for cats. And the cats look great! I couldn't recommend anyone more highly than Donna."
Sharon Morris
Hayward, CA


| | | |
| --- | --- | --- |
| | Donna's Mobile Pet Grooming Service conveniently comes to you to provide complete professional grooming for your cat or dog. With over 20 years of pet grooming experience, as well as, the gift of sensitivity and patience for all pets, you can be assured that your pet will be professionally and safely handled. At each appointment, we spend time meeting and greeting your pet and thoroughly discussing the type of cut you'd like for your pet, as well as any medical conditions they may have. Then it's off to the mobile salon! | |



These services are available for all breeds of dogs and cats. Prices for services vary depending on your pet's size and the condition of its fur/hair. An estimate can be given over the phone for the services you are requesting. Seeing your pet in person will allow me to give you an exact price.
Contact Us for more information about pricing.
Appointment Payment Policy – Payment is due upon completion of pet grooming service.
Cancellation Policy – If you must cancel your scheduled appointment a 24- hour notice must be given to avoid a cancellation fee of $55.00!

Our van, or Mobile Pet Salon, is a state of the art grooming facility with the following amenities:
· Full-sized tub for bathing and a table for grooming
· Clipper Vac System keeps fur/hair in the clipper
and off your pet and the floor
· Blow dryer or a drying cage (for the pet who
dislikes blow dryers)
· A furnace to keep warm in the winter and A/C to
keep cool in the summer
· A water heater provides warm water and the
waste-water tank keeps soapy water off your street
· A generator powers the salon.
· Plugs into standard electrical outlet